Hearing Products
If a hearing aid or device is necessary for your hearing journey, our experts will guide you to the best solution. We offer the latest hearing technology and products that address a wide variety of hearing loss concerns, helping you reconnect to the world around you.
Hearing Technology
Modern Solutions For All Types of Hearing Loss
Thanks to advances in technology, hearing products are designed to be more compatible with our lives than ever before. In addition to hearing aids, there are a number of products that make living and communicating with hearing loss easier to manage, so you never miss a beat.
Hearing aids are available in many different sizes and styles thanks to advancements in digital technology and miniaturization of the internal components. Many of today's hearing aids are considered sleek, compact and innovative – offering solutions to a wide range of hearing aid wearers.
More on Hearing Aid Styles
Hearing aid batteries don't seem like a particularly special piece of the hearing aid. However, nothing could be further from the truth. As such, hearing aid battery manufacturers are working harder than ever to produce longer lasting, higher performing batteries for hearing aids. We provide the types and sizes of batteries for all hearing aids and, most importantly, our audiologist will take the time to teach each patient how to choose, use and not abuse your hearing aid batteries.
More on Hearing Aid Batteries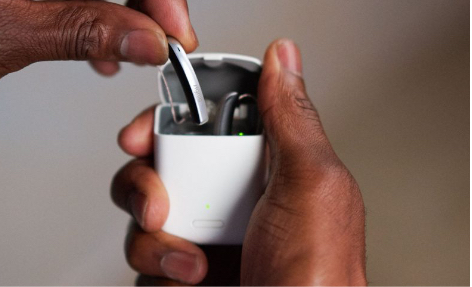 Hearing Product Guide
Curious About Hearing Technology, but Not Sure Where to Start?
With so many styles and options, it can be difficult to know which products will suit your needs. Our Consumer Guide to Hearing Aids provides an in-depth breakdown of the different types of hearing devices, as well as the technology available for all types of hearing loss.
Hearing Aid Manufacturers
Hearing Products Created by the Best in the Industry
When it comes to hearing loss, you need a device you can rely on to perform its best. That's why we carry products from manufacturers with a proven track record of exceptional quality. No matter your budget, lifestyle or type of hearing loss, we have a product to meet your needs.
ReSound Hearing Products
ReSound provides excellent sound by offering innovative hearing solutions that combine original thinking and design with solid technology – all based on deep audiological insight and understanding of hearing aid users.
View All Products
Phonak Hearing Products
Phonak's goal is to improve the quality of life of people with hearing loss. Phonak is the innovative force in hearing acoustics. With our creative solutions, we strive to overcome technological limitations – so that all people are able to hear, understand and fully enjoy life's rich landscapes of sound.
View All Products
Hearing Protection
Make Protection a Priority
Protecting your ears from noise damage is essential to healthy hearing. We carry a wide variety of options equipped with the latest features and customizations, so you can find the best fit for your lifestyle.
Noise damage is one of the main causes of hearing loss, which is why we offer a wide range of hearing protection and accessories to help you protect your hearing. Whether you're a musician, hunter, or are frequently exposed to loud noises - we have an earplug designed for your needs.
More on Custom Hearing Protection